Destinasjon
Oslo
Med en av Europas flotteste skjærgårder minutter unna et pulserende byliv har Oslo mye å tilby både sommer som vinter.
Fjordbyen Oslo har de siste årene åpnet seg mot skjærgården. Oslofjorden har blitt mer og mer tilgjengelig for byens innbyggere og med Brim har den aldri vært nærmere. Nyt stillheten i Oslos skjærgård bare minutter etter avgang fra Aker Brygge og opplev det beste Oslo har å by på. Enten du ta en drink etter en lang uke på jobb, ta helgebrunsjen til sjøs eller teste det lokale kjøkken er en stille båttur med Brim et grønt alternativ i en blå fjord.
Oslo sightseeing in style on our modern and hybrid-electric boat tours
Sightseeing in the Oslo fjord on an electric boat cruise with panoramic windows in winter and a terrace in summer!
Our tours will run 'rain or shine' It is a common expression. Often this results in you getting wet, on our hybrid-electric boat tours there is plenty of space inside. Our boats have large comfortable and heated lounges with floor-to-ceiling windows providing panoramic views. Perfect for sightseeing Oslo, even when the weather outside is cold and rainy.
And when the sun shines, we have an outdoor terrace and 2 other outside decks available for you to take in that summer sun with a refreshing drink. There is no better place to cool down in Oslo on a hot summer day than on the Oslo fjord with a salty breeze.
A fjord tour without having to leave Oslo
Granted, the Oslo fjord is not the most popular or spectacular fjord in Norway, but with over 1.000 fjords, you can't always be the winner. One of the things that the Oslo fjord does have in favour of itself? It's easy to explore and affordable. A day on the boat on the Oslo fjord is one of the most popular things to do in Oslo for the locals. With a bit of luck, we might even encounter the king's ship in the fjord. If not the king, admire one of many seaside (summer) houses that the Norwegians have built along the fjord and waterside. From the smallest cabin to the largest mansion, The Oslo fjord has it all!
Silent and electric sightseeing in the Oslo Fjord
A boat tour in the Oslo fjord with Brim Explorer is not your standard boat tour. Our ship is hybrid electric and we operate nearly 100% of our tours on the electric engine. Only when absolutely necessary, we might have to switch to our diesel engine. This is not only great for the environment and the Oslo fjord, but this also has an added benefit of reducing the noise, making the boat tour virtually completely silent. This makes it possible to get closer to nature and really take in the noise of the Oslo fjord, the breezy in the air and the breaking waves beneath the boat.
Things to expect on our boat trips on the Oslo fjord
Oslo Sightseeing that is more than just the top attractions in Oslo's city centre
On our boat tours we will of course also visit the most popular things to see in Oslo! The Opera house, Akershus Fortress, the new Munch museum, the new Deichman library and the rest of the Oslo skyline are 'must-sees'. However, the Oslo Fjord has more to offer. From lighthouses that have been converted into restaurants and little churches perched on rocks. The islands dotted in the Oslo fjord are lush and serene and cruising in between them is a quick getaway from the city of Oslo. While not as richly filled with wildlife compared to the north, there are still animals that have made the city of Oslo and the fjord their home.
A unique dining experience on a floating restaurant on the Oslo Fjord
Besides sightseeing on the Oslo fjord, we provide dining experiences on our boat tours. A floating restaurant as it were. While this is nothing new, we hope that through our partnerships with local restaurants we can offer a fantastic 'restaurant quality' meal. You can enjoy food on both our Brim x Einer Dinner Cruise as well as our Brunch & Bubbles during the weekend.
Where possible, we try to provide local and sustainable options for our food and we are proud that in Oslo, we work together with Michelin sustainability award-winning restaurant Einer.
Learn about the importance of the Oslo fjord for the balance of the city of Oslo
During some of our boat tours in the Oslo Fjord we have a marine biologist on board to share her knowledge and stories. The Oslo fjord has in the past been neglected and polluted, but in recent years there has been an increased awareness and activity to take care of the Oslo fjord. The marine biologist will share the story of the importance of the Oslo fjord to the city, what wildlife can be found and perhaps we will even encounter some wildlife ourselves.
Frequently asked questions about our boat tours in Oslo
What is there to see on the Oslo Fjord?
What food do you serve on your boat tours in Oslo?
Is it possible to book a private charter cruise with Brim Explorer in Oslo?
What do I need to bring on the tours in Oslo?
We are travelling with children, is every boat tour in Oslo family-friendly?
How cold does it get in Oslo?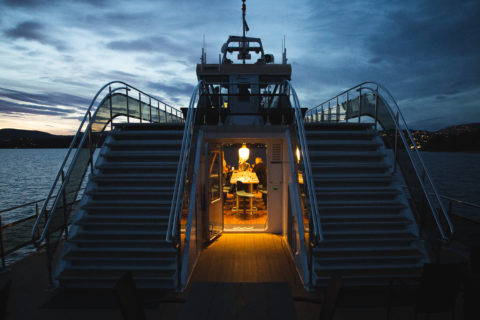 Book an eco-friendly sightseeing tour on the Oslo Fjord with Brim Explorer today!
While Oslo was previously avoided, it has now become a hip place as a starting point for holidays in Norway. Oslo is worth a few days and a stay in Oslo is not complete without one of Brim Explorers' sightseeing cruises on the Oslo fjord, seeing the highlights such as the small churches and lighthouses that were built on tiny rocks as well as the skyline with Akershus Fortress, the Opera and the new Munch Museum and Deichman library. Come on board one of our boat tours on the Oslo fjord and enjoy a brunch & bubbles, dinner with the skyline of Oslo as your backdrop or get inspired and learn about the importance of the Oslo fjord to the city of Oslo.
We look forward to welcoming you aboard. Ship ahoy and fair winds!