Charters & Events
Brim Explorer offers an ocean of possibilities for your private or company events on our hybrid-electric ships.
Looking for inspiration? Here is watt events we can host for you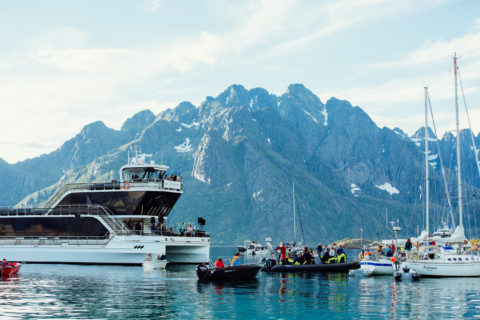 Mari-teambuilding
Recharge your team! A cruise on the fjords on our hybrid-electric ships can create that positive atmosphere needed for your team.

Electric events
Electrify your guests with this unique location for your company summer or Christmas party.

Jumpstart your product launch
Shock your customers and competition with a product launch on one of our ships.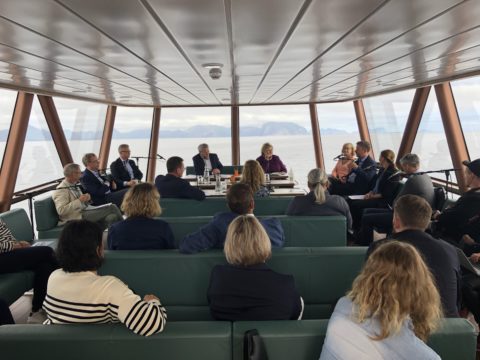 Conduct meetings
An inspiring location to host a meeting and get your guests on the same wavelength as you.
Deep Dive seaminar

Empower your team and colleagues with an in-depth workshop or training onboard Brim Explorer.
Brain-strøm sessions

A venue that sparks creativity for a brainstorm session.

Trans-port
Exchange the tarmac for the sound of breaking waves underneath our catamaran and salty air through your hair.

Swap your break at the coffee machine with a break for fresh air on our outdoor deck with a drink from our cafe.
Our hybrid-electric ships are designed with the guest in mind. Our silent electric engine with minimum pollution creates a perfect atmosphere for your company event.

Our downstairs saloon is spacious and lends itself well for meet & greets, mingling and networking events. There is a cafe on board where we can serve food & beverages.

On our second deck, we have a smaller meeting room with fantastic views and a conference-style high table for VIP meetings or private events. Our outside deck is spacious and multi-functional for any kind of set up.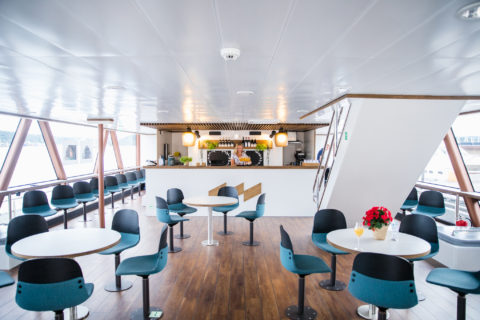 We have several multimedia screens spread over both decks for your presentation, video or conference call. Brim Explorer has seating over 80 seats and Bard has over 140. Both ships can have 146 guests on board. Together with our carefully chosen catering service, we can prepare a healthy meal for your event.
Sparked your interest? Please get in touch and together we will tailor your event to your wishes and desires.