Destination
Lofoten boat tours
Steep mountains, narrow fjord and historic fishing villages. You have not seen Norway until you have experienced Lofoten
One of the world's most famous archipelagos that most have never heard of, but only seen on pictures. Lofoten is still very much an off-the-beaten-path destination and its unspoiled nature and ruggedness is what makes it unique. Historically difficult to reach, it has developed its own culture over the decades. Through our boat tours, we will pursue the challenge of sharing nature and local culture in Lofoten. From the midnight sun on Skrova and the picturesque fishing village of Henningsvaer, to the famous Trollfjord.
Our boat tours in Lofoten
Experience a world-famous archipelago on a world exclusive boat tour
Cruise along Lofoten's spectacular scenery with minimal noise and pollution.
In a time where everyone is in a rush and holidays encompass more in a shorter time, our silent boat tours in Lofoten are designed to be just the opposite of that. Our hybrid-electric boat tours are so-called 'slow travel' where give you the time to take in the fjords, mountains & wildlife around us. Our silent electric engine will take away much of the noise and you can really calm down and enjoy Lofoten the way it deserves!
Read more +
One of Lofoten's most sustainable boat tours
Under the slogan "De Grønne Øyene" (the green islands), Lofoten islands have set a goal to contribute to the UN climate goals and reduce emission by 50% in 2030. Tourism is an important part of the Lofoten islands and so it has an important part in this project. Brim Explorer tries through innovation and inspiration to contribute to the development of a green and sustainable Lofoten. Our boat tours in Lofoten are operated on hybrid-electric boats and our goal is to do as much of our tours on our electric engine. Lowering carbon emissions but also reducing noise pollution. You can read more about the designs of our ships via this link.
Read more +
Things to expect on our boat trips in Lofoten
Tour boats with top-modern facilities and amenities
Experiencing Lofoten on one of our hybrid-electric boat tours is a different experience. Our ships are designed with the experience of the guest in mind. We have panoramic windows that provide great views from inside, even for the smallest amongst us. The ship has 3 different levels and spacious outside areas, providing a 'front-row-experience' for everyone.
Read more +
Witness Lofoten's magnificent fjords and mountain peaks by boat
The Lofoten archipelago has historically only been accessible by boat, only connecting it fully by road in 2007. The fishing industry has been the dominant industry for as long as people have lived in Lofoten and so it is safe to say that Lofoten is best experienced by boat. The archipelago is characterised by magnificent fjords and steep mountains rising straight out of the fjords. The 'Lofoten-wall' is a sight for sore eyes and best enjoyed from the water when the midnight sun touches the mountains and sun rays are split by the peaks of Lofoten.
Read more +
Close encounters with arctic wildlife
Lofoten is most famous for its cod fishing. But humans are not the only one that have settled in Lofoten to fish. Lots of other wildlife has made Lofoten their home for its food-filled waters. Amongst the most famous are dolphins and orcas, but they are rare to see. Birdlife is more common, Cormorants, king eiders and different types of gulls.
The most famous and notably of birds are the white-tailed eagles. The largest eagles in Europe. Once numbering in the thousands, their population has drastically lowered in the last centuries due to hunting of the eagles, as they were believed to prey on livestock such as sheep. Luckily the white-tailed eagles are now protected and admired.
Read more +
Silent sightseeing cruises off-the-beaten-path
Lofoten is still very much a hidden gem. Relatively few people know of its existence and even fewer visit, as it's not the easiest place to reach. This is (besides its sheer beauty and abundance of places to see and activities), one of the main reasons why Lofoten is one of the most popular destinations for Norwegians themselves to visit in Norway.
This makes Lofoten, for now, still an off-the-beaten-path destination and a real adventure. With our boat tours in Lofoten we try to expand your reach in Lofoten from the land to the water. Exploring the popular Trollfjord as well as Henningsvær in silence on our hybrid-electric cruises. Our tour to Skrova in the evening is the perfect example of an off-the-beaten-path place to visit within Lofoten. Its crystal clear waters and cute fishing town are some of its highlights.
Read more +
Learn about Lofoten's local traditions, culture, and history
Lofoten has a long and fascinating history. From the formation of the Lofoten archipelago to the arrival of the Vikings. The fishing history and the distinctive culture and traditions of those living remote and far above the arctic circle. Our guides will share their knowledge and stories in connection with Lofoten and their own experiences.
Read more +
Frequently asked questions about our boat tours in Lofoten
What is the best time to visit Lofoten?
Where in Lofoten is best to stay if I want to book a tour with you?
What do I need to bring on the tours in Lofoten?
We are travelling with children, is every boat tour in Lofoten family-friendly?
Do all cruise tours in Lofoten include deployment of the underwater drone?
What animals do I have a chance of seeing on the boat tours in Lofoten?
Is it possible to book a private charter cruise with Brim Explorer in Lofoten?
Do you offer northern lights cruises in Lofoten?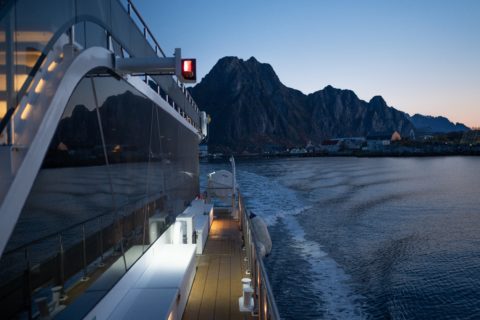 Book an environmentally friendly boat tour with Brim Explorer today!
A visit to Lofoten is not complete without a boat cruise. Life in Lofoten is unbreakably connected with boats and it's the traditional way to experience Lofoten. Brim Explorer offers that experience in a modern way with comfortable and spacious hybrid-electric ships designed with the guest in mind. Our Lofoten cruises are a variety of nature-related and cultural tours and cruises to the most popular places in Lofoten as well as off-the-beaten-track destinations.
We look forward to welcoming you aboard. Ship ahoy and fair winds!
Address
Torget,
8300 Svolvær,
Norway