Destination
Tromsø boat tours
Paris of the North, gateway to the Arctic, world capital of the Northern Lights, home of Brim Explorer
Far north in the Arctic Circle you can find Tromsø. The third-largest city in the Arctic Circle. Despite its location, the region of Tromsø has a relatively mild climate, one of the main reasons the city was built here and that it has become so popular. Tromsø is a city offering everything you need, creating convenience for its visitors and having all the unique experiences of the Arctic within reach. With our boat we will extend this accessibility and make the surrounding fjords of Tromsø reachable for you. Our fjord tours in Tromsø include visiting local fishing villages, whale watching and dining on board under the Northern Lights.
Our Tromsø fjord cruises
Experience the Tromsø fjords on a boat designed for the arctic winter conditions
A warm and comfortable boat cruise on Tromsø's icy cold fjords
Tromsø's fjords are about 4-6 degrees and out on the water it can be breezy. Luckily our ships are specifically designed for sightseeing cruises in the arctic so you will be greeted with warm indoor saloons and comfortable seats. There is no need to worry about missing out on the stunning scenery of the fjords & mountains, as our floor-to-ceiling windows provide you with a panoramic view. Still want to brave yourself and experience the arctic elements? There are large outside decks on 3 different levels that give you a great view of the fjords. Once back inside you can order a warm drink and meal from our café!
Read more +
One of the most eco-friendly cruises on the Tromsø fjords
On our boat tours in Tromsø we can use our electric engine which produces minimal noise and vibration. Comparable to a Tesla. This reduces the disturbance for wildlife. Especially marine life. This way we can bring you closer to nature without disrupting it. Furthermore, some of our guides are marine biologists, while others are hobbyists bird watchers and others still have been whale watching guides for years. Rest assured, there is a lot of animal lovers or "zoophilists" on our boat cruises in the Tromsø fjords.
And yes! You're allowed to take your pet on board!
Read more +
Things to expect on our boat trips on Tromsø's fjords
View the winter landscapes & mountains from the fjords
During the short winter days and in the crips cold morning air you can jump on board one of our boat tours and see the winter scenery from the middle of the fjords. All our tours take a different direction and whichever way you turn in Tromsø, you will be surrounded by hills and mountains. Some of the fjords are narrow and can freeze over when it is cold enough, while others are vat, wide & open. In Autumn the scenery is red and purple, while in the winter and spring it is nothing but winter wonderland around Tromsø. Sunrise and sunset can be stunning with reflections on the water and at night the Northern Lights sometimes fill the sky.
Read more +
Sightseeing cruises past old fishing villages around the Tromsø fjords
People often wonder why humans live so far up in the Arctic. Northern Norway and the Arctic have rich waters filled with fish. Which is what traditionally has been the most important source of income and still to this day is important industry in and around the Tromsø fjords.
While on our boat tours you will often pass by one or several small traditional fishing towns and villages. Some of these villages are not larges than a few houses and while they might not all be fishing towns anymore, often they are still inhabited because they are built in locations close to Tromsø with views straight onto the fjords. Who would want to trade if your backyard consisted of fjords & mountains!
Read more +
Scout out wildlife and whales on our day trips from Tromsø with minimal noise and vibration
One would not expect a lot of wildlife during the dark winter months of the Arctic, but the opposite is true. There are moose, reindeer, white-tailed eagles and other birdlife surrounding the Tromsø fjords. While some birds migrate south, other animals come to the arctic specifically during the winter. In specific whales. Orcas and Humpback whales. On our day trips from Tromsø we can encounter any of these animals (including a rare occurrence of swimming reindeer or moose).
Our boat tours are particularly well suited for sightseeing the Tromsø fjords and its wildlife. On our trips we can switch to electric mode, producing minimal noise and vibration. This reduced noise pollution, avoiding disturbance to marine life and allowing us to get closer to nature.
Read more +
Listen to our guides share stories about life on and around Tromsø's fjords
Some of our guides were born and raised around the fjords of Tromsø that we cruise on during our boat tours. Others have moved here because of their passion for the Arctic, ecotourism, whales or Northern Lights. Regardless of their motivation, our guides are filled with passion and knowledge and they will share stories about the wildlife, history, nature and culture of Tromsø. Their personal experiences or maybe an anecdote about Roald Amundsen!
Read more +
Frequently asked questions about our boat tours in Tromsø
Which fjords are near Tromsø?
How cold does it get in Tromsø?
What is the best time to visit Tromsø?
What do I need to bring on the tours in Tromsø?
We are travelling with children, is every boat tour in Tromsø family-friendly?
What animals are possible to see on the boat tours?
Is it possible to book a private charter cruise with Brim Explorer in Tromsø?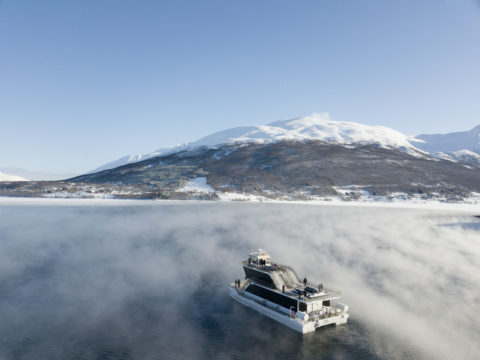 Book an eco friendly boat tour with Brim Explorer today!
A visit to Tromsø is a must and a boat tour with Brim Explorer will bring you to places you would not have seen otherwise with unique views and perspectives of the Tromsø fjords. Brim Explorer offers that experience in a modern way with comfortable and spacious hybrid-electric ships designed with the guest in mind. Our Tromsø cruises all have one distinct highlight of Tromsø at their core, whether it is Whale watching, a dinner cruise with the possibility to see the Northern Lights or a fjord cruise to see fishing villages and culture of Tromsø.
We look forward to welcoming you aboard. Ship ahoy and fair winds!
Address
Kaigata 6,
9008 Tromsø,
Norway
Travel inspiration

Get more ideas on what to do on the Tromso Travel Guide from Kayak.